Cementitious Surface Overlays
Commonly used as a thin surface restoration material for concrete. Overlays consist of Portland cements, various aggregates and polymer resins that provide the chemistry for the new surface repair overlay to adhere to the original or "old" concrete. Damaged or uneven concrete can be a good candidate for an overlay, creating a new concrete surface. Cementitious surface overlays can be stamped to achieve brick or stone patterns, can be stained and dyed creating new textures, colors and designs. We provide a complete restoration service that will make your old concrete look new again.
Chemical Resistant Coatings
Applications that demand safe and consistent function in the presence of environmental and industrial chemicals will benefit from Protective Coatings & Waterproofing Inc.'s extensive selection of chemical resistant coatings.

These coatings offer a variety of valuable attributes:
Chemical resistance
Corrosion resistance
Abrasion resistance
Durability
Thermal Shock and Impact Resistance
Used Indoors or Outdoors
Clear Sealers
Protective Coatings & Waterproofing carries a complete product line of clear sealers. Quality sealers can also be very effective as a concrete driveway sealer and a concrete floor sealer. As most people today have a need to protect their concrete driveways and concrete floors due to water/oil damage or general wear and tear due to constant environmental exposure.

Some concrete sealers are designed to stop water leakage and prevent cracks due to thermal changes, settling or stress-induced damage. Sealers also serve to protect imbedded rebar from corrosion damage. We have a variety of systems, applications and products to provide superb solutions for these problems.
Deck Coatings
The purpose of a deck coating is to preserve the integrity of the coated concrete surface and in turn prevent water from filtering to levels below.

Our trained technicians have applied Neogard, Tremco and BASF Sonneborn pedestrian and traffic deck coating systems. These unique waterproofing systems are designed to have tenacious adhesion, extreme impact, and abrasion resistance along with remarkable chemical stability. The elastomeric properties of the System's components enable the complete assembly to give and work with the concrete slab, bridging the shrinkage cracks. Additionally, the System will protect the concrete from damaging effects of water, deicing salts, chemicals, gasoline, oils and anti-freeze.
Decorative Epoxy Systems
A decorative coating is one of the most economical and aesthetically pleasing ways to enhance a plain gray concrete into a long lasting, high performance industrial floor. These heavy-duty epoxy-based systems not only upgrade the look of any concrete floor, they also increase resiliency to stains and tire marks and hide minor imperfections. With numerous base colors to choose from these coatings can be further enhanced with decorative quartz or vinyl chips, these enhancements give you a wide array of design options.

For over a decade we have been turning garage floors into beautiful living extensions for homes. Review the portfolio the links page for design choices on a new decorative floor coating.

Typical uses:
Garage floors
Basement floors
Auto showrooms
Restaurants & Retail Stores
Specialty Epoxy Systems
Specialty flooring systems can be used for a variety of applications indoors or outdoors. A Specialty Epoxy System is an ideal floor option for an attractive and U.S.D.A. compliant, sanitary coating that is easy to clean and maintain. Specialty flooring systems range from the use MMA's, epoxies, low-odor chemical resistant flooring, and cementitious surface overlays. For use as chemical resistance floors in meat, poultry and dairy processing plants, beverage & packaging facilities, commercial kitchens, freezers, coolers, warehouses, shipping docks, pharmaceutical processing plants, and sports facilities.
Dyed Concrete Floors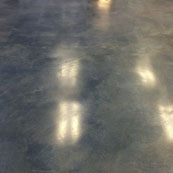 A Concrete Dye is formulated using extremely fine color molecules designed to penetrate and dye/color any cementitious surface. For a decorative coating contractor the combination of concrete dyes and chemical stains is a perfect synergy in creating that one of a kind floor. Although stains have been the work horse for amazing color transformations, dyes deserve equal kudos. These new coloring agents can achieve vibrant tones simply not possible with stains alone.

Protective Coatings & Waterproofing offers a proprietary line of water and solvent based dyes in a vast array of colors, including subtle earth tones, vibrant hues, and pastels.
Stained Concrete Floors
Staining concrete has been one of the most popular applications for transforming concrete slabs often referred to as colored concrete, homeowners, designers and builders are drawn to stained concrete because of the unique outcome. This is achieved by the chemical reaction in the concrete producing color variations that is unique on every concrete floor.

We are in the business professionally and diamond grind every slab we acid stain. We also offer a two component water-based top coat sealer formulated with solid epoxy resins.  We suggest multiple coats of epoxy (minimum of 2) and in high traffic areas a sacrificial wax is recommended.
Polished Concrete Floors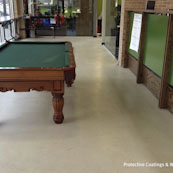 Within the last few years Polished Concrete is fast becoming a desired flooring alternative to coated concrete, marble, granite, tile, linoleum and carpet. The surface of the concrete is diamond ground a densifier sealer is applied and then polished. This newly polished surface becomes highly reflective, beautiful, durable, abrasion resistant, environmentally friendly and easy to maintain.  A concrete dye can be applied in the polishing process for add beauty.

Protective Coatings & Waterproofing has made the investment in professional grade American Made machinery and diamond tooling designed by Kut-Rite Manufacturing. With this specialized equipment we are able to achieve results what can only be described as superior polished floor finish. Our industrial grade vacuum extraction system allows us to polish any floor keeping the dust levels to a minimum. Of course this is ideal when polishing a floor in a residential home as well as larger commercial projects. 

Going Green- Polished concrete may qualify a project for LEED credits. Polished concrete is considered a sustainable design floor by utilizes existing concrete surfaces eliminating additional materials such as coverings/coatings.