Epoxy Injection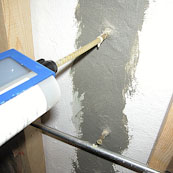 An epoxy injection is primarily used to repair cracks in concrete while restoring the structural integrity and preventing water or moisture from entering into the structure. The process can includes sealing the crack and injecting a two part resin under low pressure. The types of epoxy, equipment utilized and the method of repair is dependant upon the repair application.
Repairs include:
Water leakage through cracks in concrete.
Poured wall cracks, Block wall cracks.
Cold joints, Expansion joints, Working cracks.
Honeycombed, Sand streaking repairs.
Carbon Fiber Stabilization
Structural filler adhesive between steel plates and concrete.
Wall cove seepage, Foundation sill plate sealing.
Joint Sealers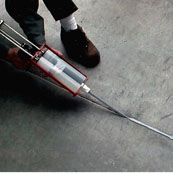 Joint sealants are used to seal joints and openings between two or more substrates. Their main purpose is to prevent air, water, and other environmental elements from entering or exiting a structure while permitting limited movement of the substrates. Joint sealant products includes both single pack moisture cured and two part reactive cure products Expansion joint systems are utilized in all concrete structures where the anticipated movement exceeds the design criteria of regular sealants. Many of the expansion joint systems available today can accommodate not only a large horizontal movement but also the differential shear caused by vertical movement.
Chemical Grout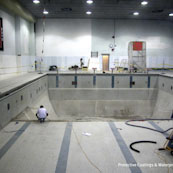 A chemical grout is primarily used to seal cracks and penetrations in below-grade structures where the presence of water is evident. The process can includes the inject of a urethane grout under high pressure. Chemical grouts are a repair choice when access to install conventional external waterproofing can not be obtained or feasible. Typical applications include defects in foundations, swimming pools, dams and waste water treatment facilities. One of the key factors in obtaining the desired results includes selection of the correct materials and a thorough understanding of the problems that exist.
Concrete Repairs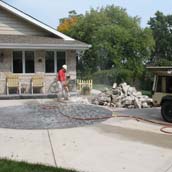 Over time, the repair of concrete structures becomes a necessity as the deterioration of the cement results in cracking and spalling. The prime factors in deterioration are air and moisture which result in carbonation of the concrete. In colder climates the use of salt, as a deicer, results in chloride attacking the concrete. A variety of modified cementitious repair materials have been developed the selection of materials and method of repair is essential to the success and achieving the desired end result. The International Concrete Repair Institute (ICRI) has established accepted guidelines for repair methods and work practices.
New Concrete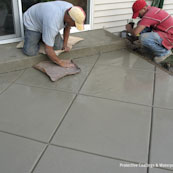 When repairing damage or ugly concrete is cost prohibitive the solution might be replacement. Complete replacement maybe and more economical that you might think. Creative concrete has gained popularity over the years. Property owners can now achieve the high-end look of stone or brick pavementand often at a lower cost with stamped concrete, commonly referred to as patterned concrete or imprinted concrete.
Crawl Space Encapsulation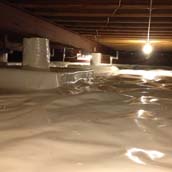 A Crawl Space encapsulation system is a critical step creating a healthy, energy efficient home. Studies indicate the up to 40% on the air quality in your home comes from a lower level or crawlspace. When your crawlspace is moist, moldy or full of water, the air quality in your home will surely suffer. Excess humidity or standing water in your crawlspace can also promote structural damage to your home. Protective Coatings & Waterproofing, Inc has corrected moisture issues in homes that had mold in the attic as a result from moisture from a crawl-space. A complete system can be designed to include a standalone dehumidifier to help reduce the humidity, toxic mold, soil gasses and harmful airborne allergens.
Sump Pump/ Drain Tile System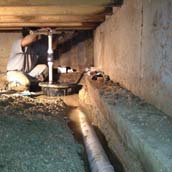 If you have ground water in your crawl space or hydrostatic water pressure seepage in your basement floor a proper drain tile and sump pump system is a good idea. The most effective of the interior drainage systems is a perforated drain pipe installed inside the perimeter of the footing. This requires removing the concrete or soil and installing a drainage pipe, sump pit, a properly sized sump pump, water discharge pipe with a quiet check valve and replacing concrete or soil. It is recommended that this approach be combined with an active soil gas management system or a crawlspace encapsulation system.
Battery Back up Systems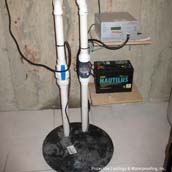 The selection of a sump pump will rest heavily on the application in which it will be used. Our skilled technicians can help in the selection of the appropriate sump pump. A secondary sump pump is typically a battery-powered pump which will operate if the first pump fails due to a power failure or a primary pump failure. Quality and reliability is critical, it is the first line of defense in helping to prevent your lower living space from flooding.

Manufactures used:

NexPump: The Only sump pump with built in Artificial Intelligence Battery Back-up Systems.
Zoeller: The oldest independently owned U.S. pump manufacturer. Primary and Back-up pumps.
Barnes>: High performance and unequaled value. Primary pumps.

The best battery back-up sump pump system is rendered useless with out a 100 % maintenance free high-performance AGM battery. We only use the best batteries available in our back-up systems.